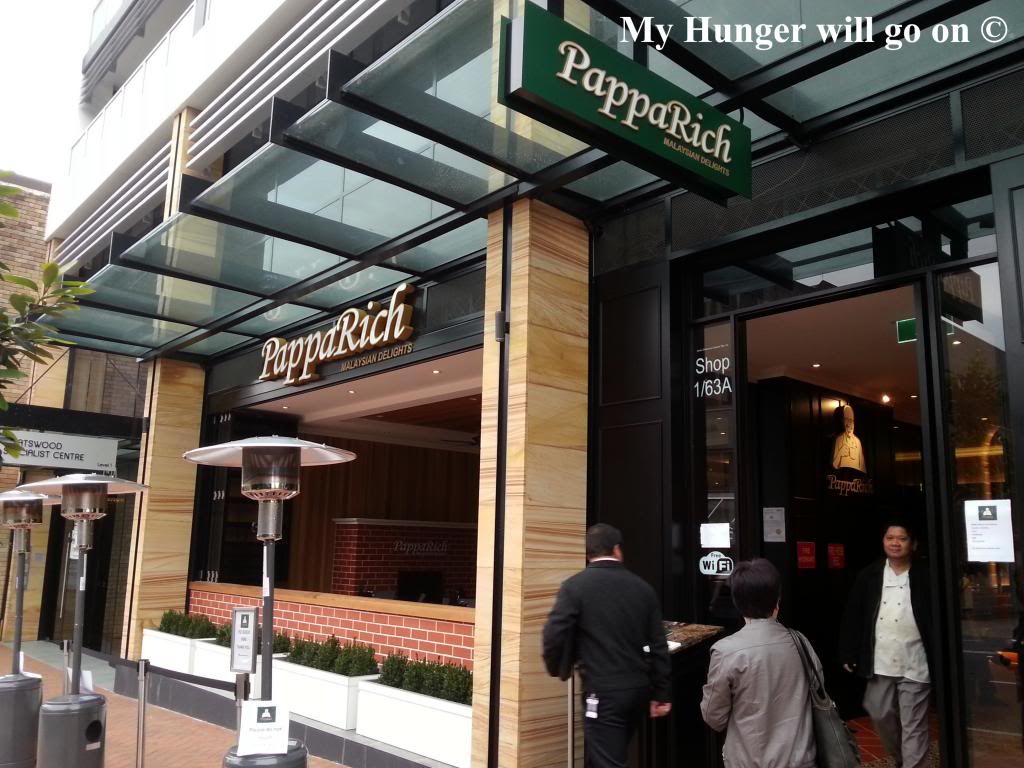 PappaRich Group was first established at Malaysia in 2005, and not long ago the group opened its first outlet at Chatswood in Sydney. Bun and I headed there with a few dishes in our minds, and we mainly wanted to see how different it was to
Mamak
.
When we got into the restaurant, the waitress explained to us on how to order. So pretty much you just write the codes corresponding to the dishes you wanted on this piece of paper, and also letting them know whether to have the dessert at same time or after meal. There's always a button on the table to call the staffs when you are ready to order or need any assistances.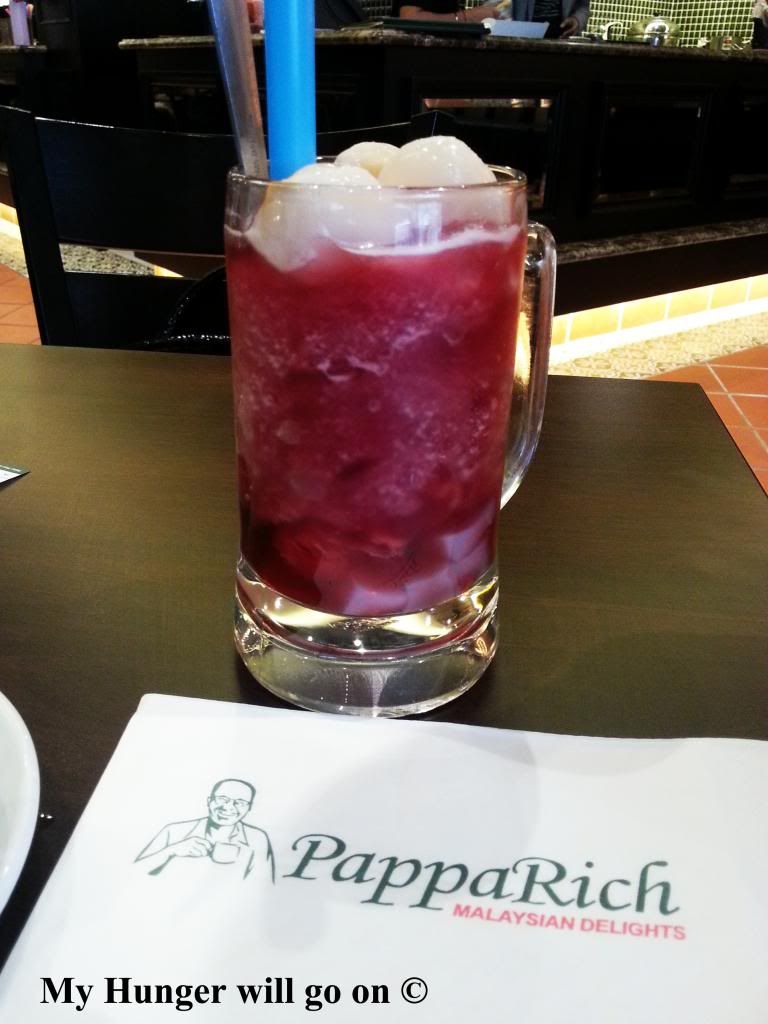 Rebena Melon
First thing of the menu (as always) was the drink, and this particular drink has immediately caught my attention. I was totally drawn by the colour of the drink, and the floating fruits that came in very round shapes. Although it didn't really say what was included in this drink from the menu, but I could taste watermelon and perhaps Longan? There were few jelly-like things at the bottom of the drink, and surprisingly they tasted like Jasmine tea. The overall drink was very refreshing with loads of different flavours and textures, and I liked it very much as it also helped to cool down the burning lips after the spicy foods.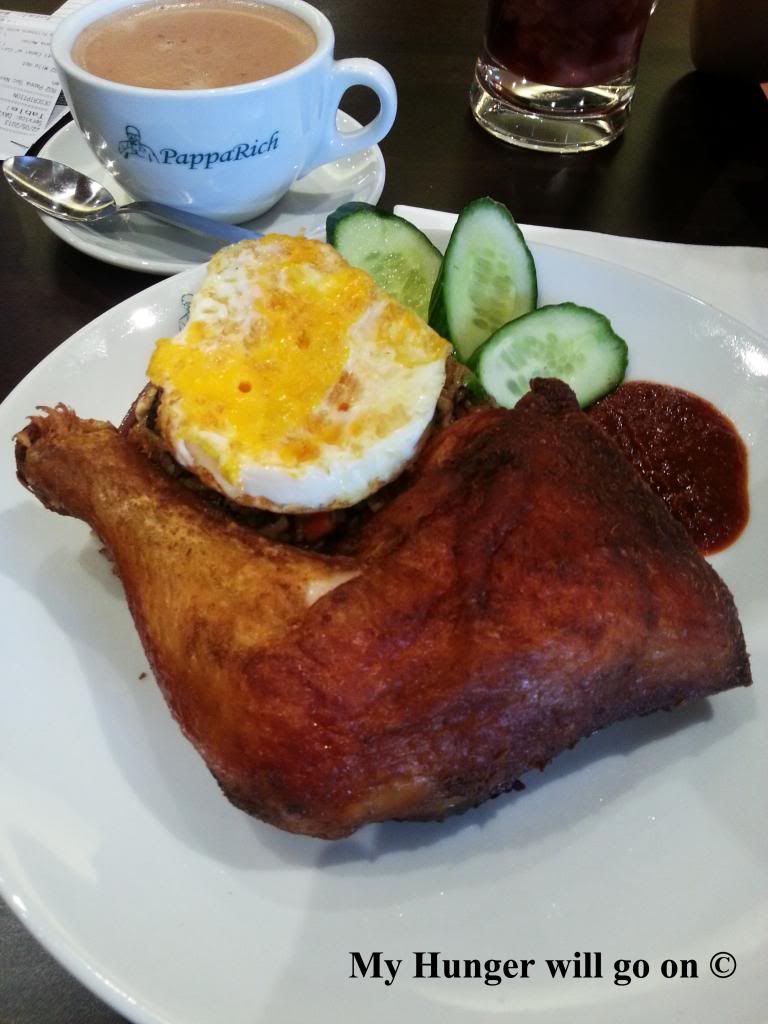 Coffee + Milo, Pappa special Nasi Goreng with fried chicken
So these were what Bun ordered, as he always adores the crispy skin chicken. The rice actually tasted really flavoursome, and they were quite moist unlike some of the really dry fried rice that we've tasted before. There was also an egg and a pappadum, the egg was well-cooked and the pappadum was extra thin and crispy like those prawn crackers. I have to mention that the Sambai (sauce) is way spicier than what we imagined, but gosh that felt so good afterwards with all the sweats!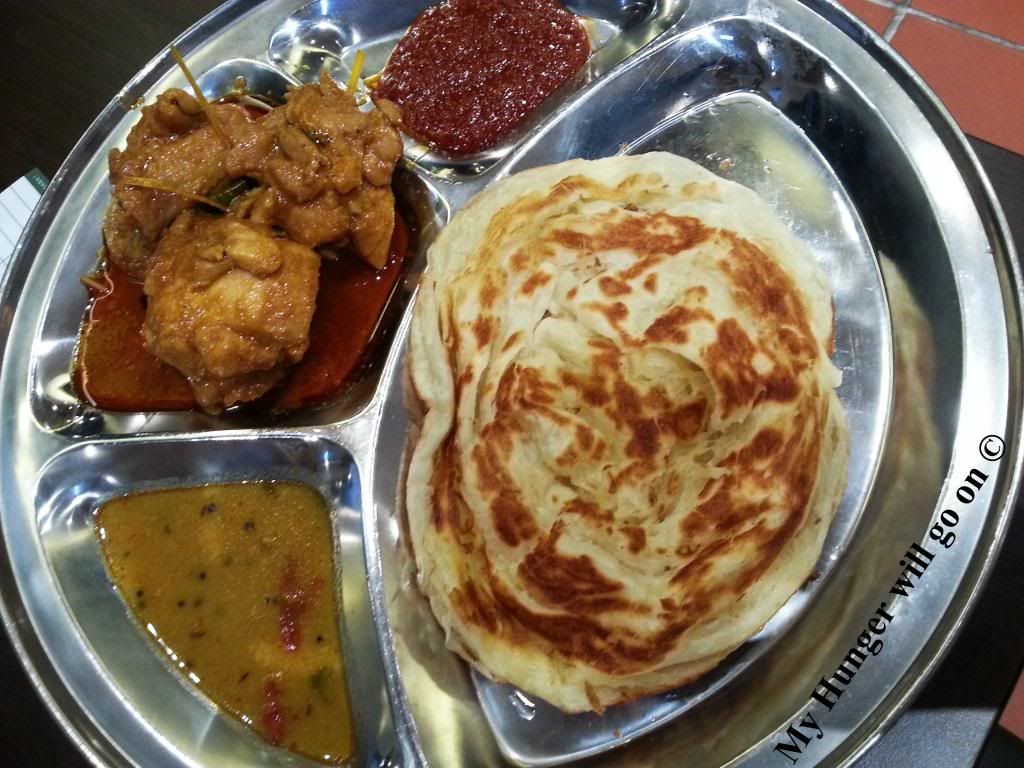 Roti Canai with Curry chicken
How can I walk out of a Malaysian restaurant without a piece of Roti? This one looked way tempting that any others I've seen, maybe because it comes with the additional Curry chicken (both are my favourites)! The Roti had a crunchy edge and a slightly crispy surface, it was quite different with Mamak's one whereas the Roti there was completely soft. The chicken was as juicy as expected, but I prefer it to be dipped in the Sambai as I found the curry sauce itself was a bit light. Mmm...what type of Roti I preferred? I guess I still liked the ones from Mamak a little more as I prefer them soft and easily stretched apart.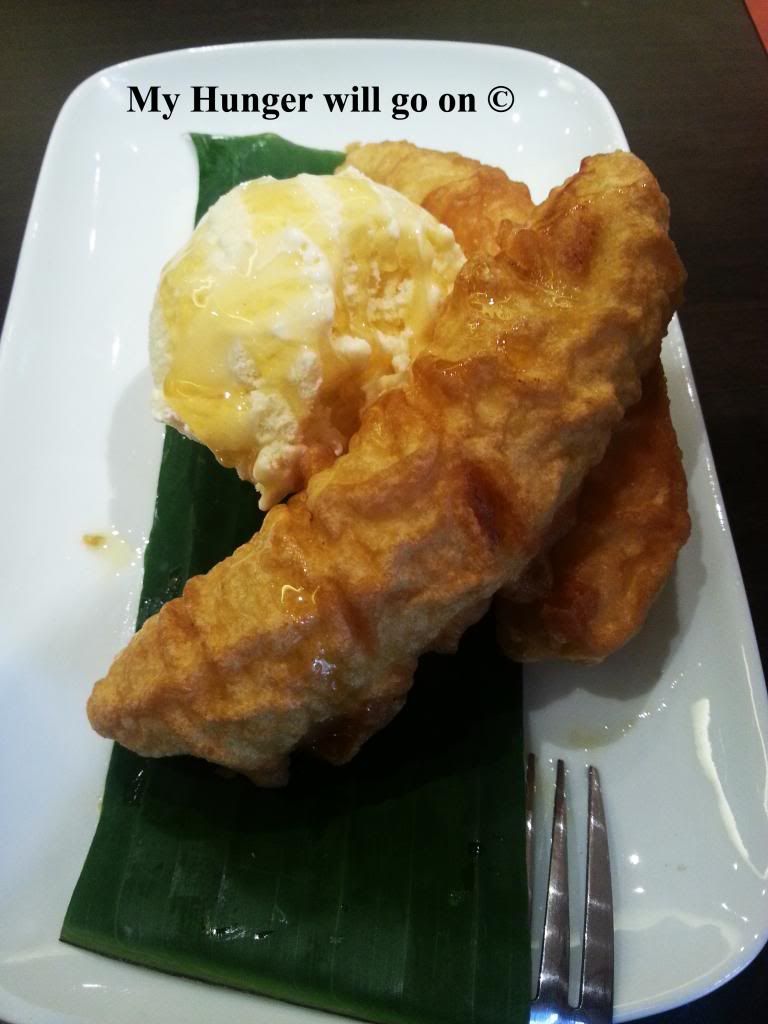 Banana fritters with Ice cream
Everything went so well up until the dessert stage, and I still didn't understand what really happened. But the story was, we've ordered this dish and it literally took about 1 hour to arrive at our table. Also, in between all this time, we have checked TWICE on this dish with the staffs! At first we really thought that it was fried food, so obviously it would've take longer to make. But unfortunately this idea was eliminated after another half hour went by and everyone else around us got their desserts already. So when it finally arrived at our table, we didn't even feel like eating it anymore. We found the banana was very bland, and the skin was already soggy and it was funny how we liked the Ice cream better than the Banana. Sadly, this killed the mood and it didn't finish the meal as the way we wanted. I guess if we ever visit them again, we'll just have to order a simpler dessert, like...pudding or something.
Despite of the lateness of the dessert, we could still say that all the other dishes were delicious. I would still recommend this to all the fans of Malaysian cuisine, and we also found PappaRich actually had a lot more varieties to choose from.
Address:
1/63A, Archer Street, Chatswood NSW
Phone number:
02 9411 3207
Opening time:
Sun to Thu 11am - 9pm
Fri and Sat 11am - 10pm
View Larger Map