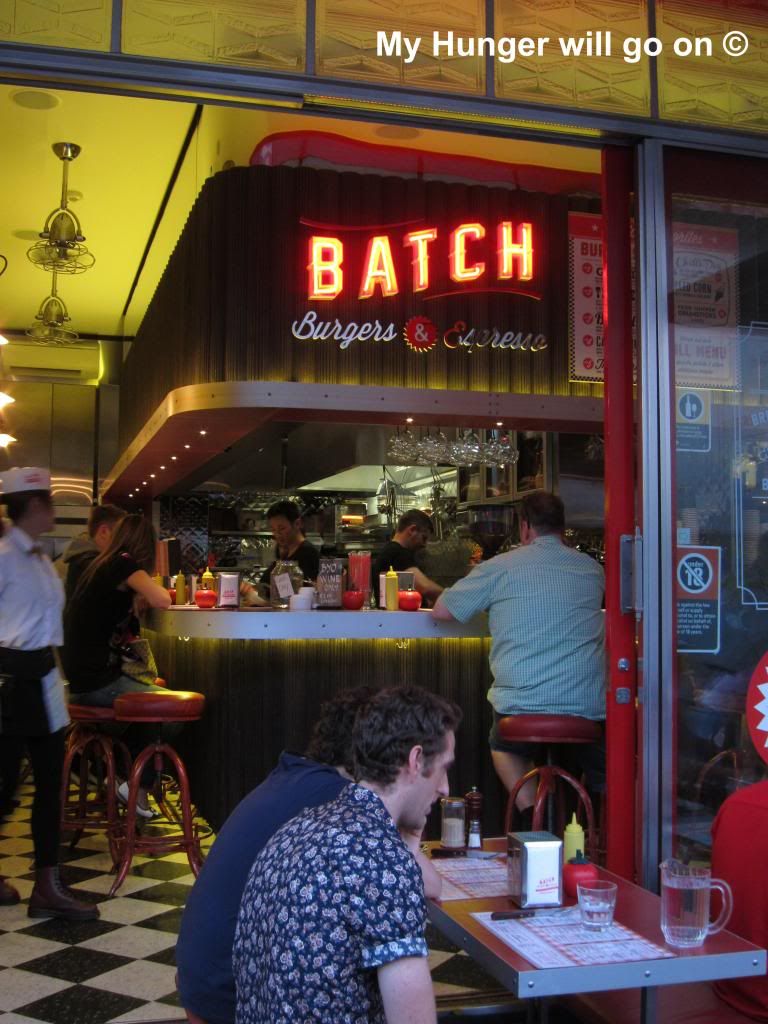 There's something fascinating about the traditional American diner style, the New-York themed café and its giant sized burgers. With half of the area inside "Batch Burgers & Espresso" being occupied by the kitchen and constant sizzling aroma crawling to the street outside, the friendly waitress showed us our high bar seats right in front of our chefs for the night.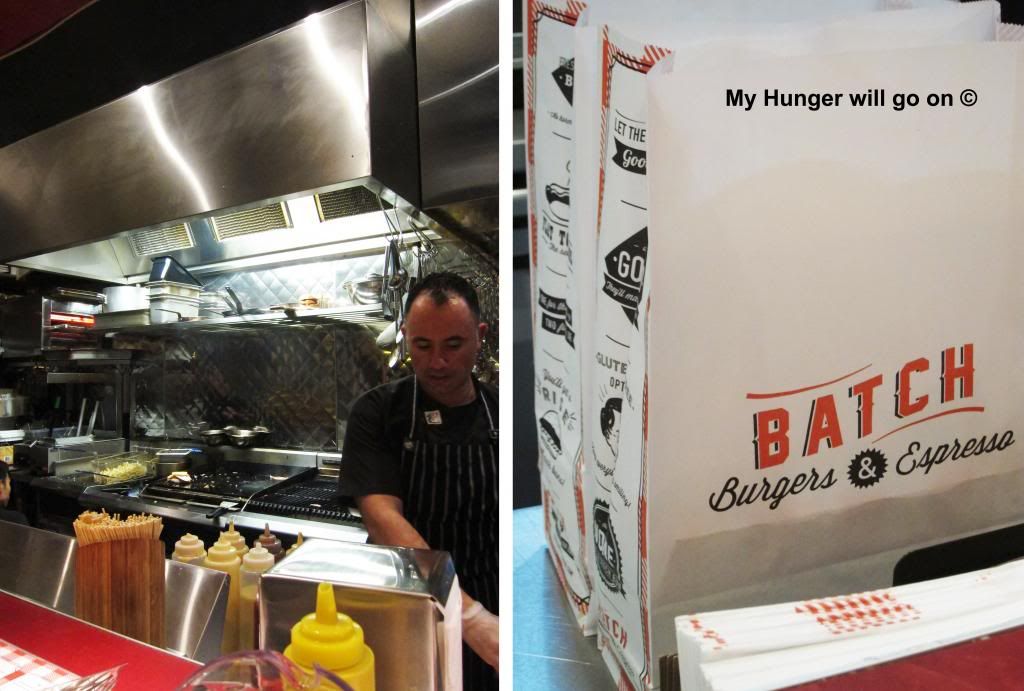 The menus were almost like they were stamped onto the tables, displaying their impressive list of burgers with familiar names such as Brooklyn and the Miami, and as well as a whole range of side dishes. The workers smiled and greeted their customers, occasionally having a small chat about foot ball and Saturday night drinks. Multiple numbers of takeaway bags filled up the kitchen tables, lining up and shuffling in the speed of light. The chunky mince patties flashed right before our eyes, accompanied by a whole bunch of fries dancing in the frying spots. It was hot, and certainly appealing for a Saturday night dinner along with lively American Hip Hop beats on the background.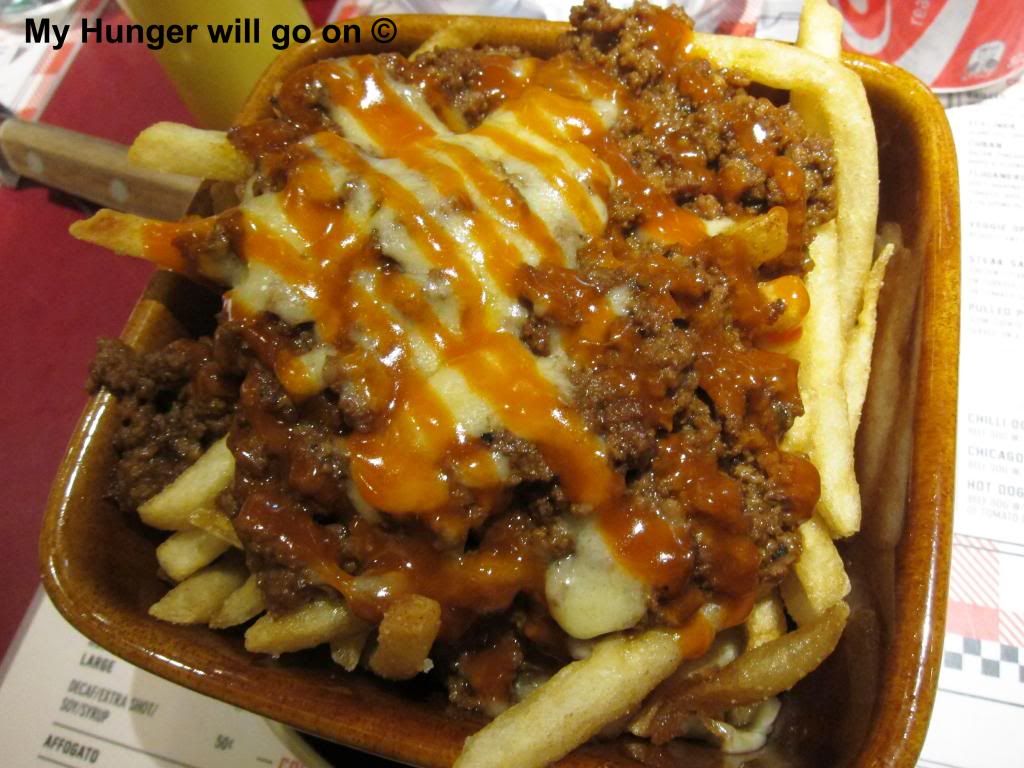 Snacks - Chilli Fries $7.00
We had never thought fries could come in this form, where it's covered by small and chopped up pieces of mince along with cheese and spicy sauce. The mixture turned out surprisingly zesty, and every mouthful was full of flavours. Bun loved it, so there goes 3/4 of the bowl. I would certainly recommend this, and it's probably more enjoyable when shared with someone.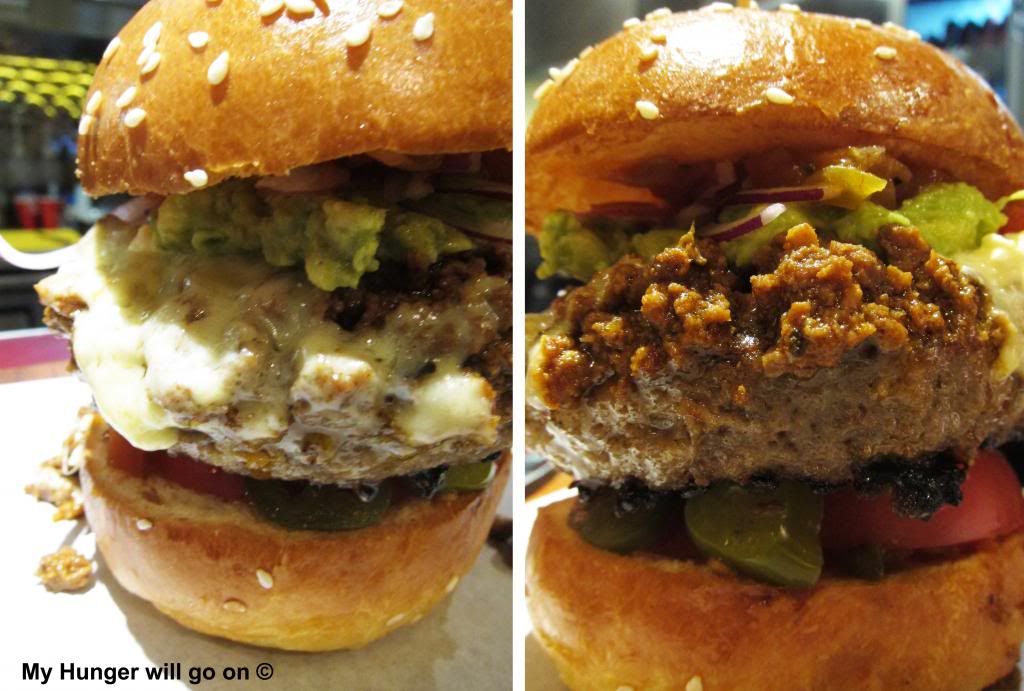 Burgers - Spicy Mexican $14.00
While we sat there, I think we heard about 3 others ordering this same burger, so it got to be GOOD! This humongous burger contained chilli mince, smoked cheddar, tomato, Spanish onion, Jalapenos & sour cream with hot taco sauce, so it was an absolute masterpiece I must say. The burger was so big that I found it very difficult to fit into the bite of my little mouth, so I had to slice it apart and watched the precious cheese and mince fell and splat on the plate. The buns has done a good job trying to hold each layer properly in place, despite the obvious observation that the chunky mince patty wanted to shoot out desperately. The Mexican flavour has immersed into this burger perfectly in every single way, and it was just so satisfying to chomp it all down and enjoy that flame left in your mouth.
Very unfortunately, I was way too full after 3/4 way of the burger, and I felt so sad to leave that very little piece behind. We laughed at the mess that I have made on my plate, with bits of cheese and mince tangled together and looked as if they'd come alive in any minute and start wiggling. We were satisfied, more than 200%.
This place will be awesome to come with a bunch of friends to have a quick catch up before heading down to the town for a big night, and you can even start your pre-drinks here if you want. I imagined this place will probably be in a totally different atmosphere if you come for breakfast or lunch, and we have to say the breakfast menu looks pretty welcoming! (NEXT TIME!! ho hum)
Address:
2/3A Broughton Street, Kirribilli NSW
Phone number:
02 9929 8883
Opening time:
7days 7am - 10pm
View Larger Map