Groupon is one of the fastest growing companies in the world. It presents a large variety of deals including leisure, beauty, food and drink, health, entertainment and more, and such experiences can be enjoyed at up to 90% off! Groupon deals can be obtained with quick and simple steps of buy, print and experience. As soon as the deal is over, you will receive your voucher given that the minimum numbers of people have bought the deal. Additionally, you can also recommend it to friends and you will earn $10 credit on your account if they purchased the deal!
Special thanks to
Groupon
,
My Hunger will go on
was lucky to be given a voucher to try out one of their restaurant deals in Sydney. This would be very exciting, as me and Bun always loved those deals and have been happy customers of Groupon in the past. This time we picked Himalayan Gurkhas at Neutral Bay, purely because we love new things and we never tried Nepalese cuisine before!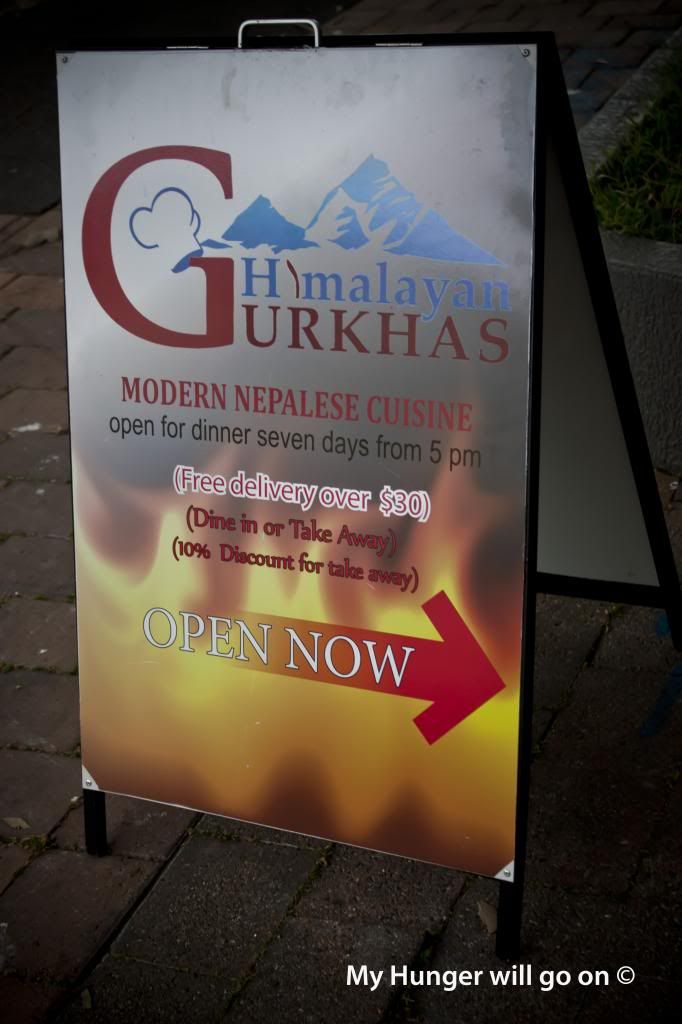 The restuarant is located at the corner of Military Road and Ben Boyd Road, it takes a while to notice at first as they are not visible on the main Road, and you have to walk in a little after you see the sign.
The restaurant had both indoor and outdoor dining areas, and we noticed the contrast as we walked closer. The outdoor area was simple, tidy, and presented in cool colours.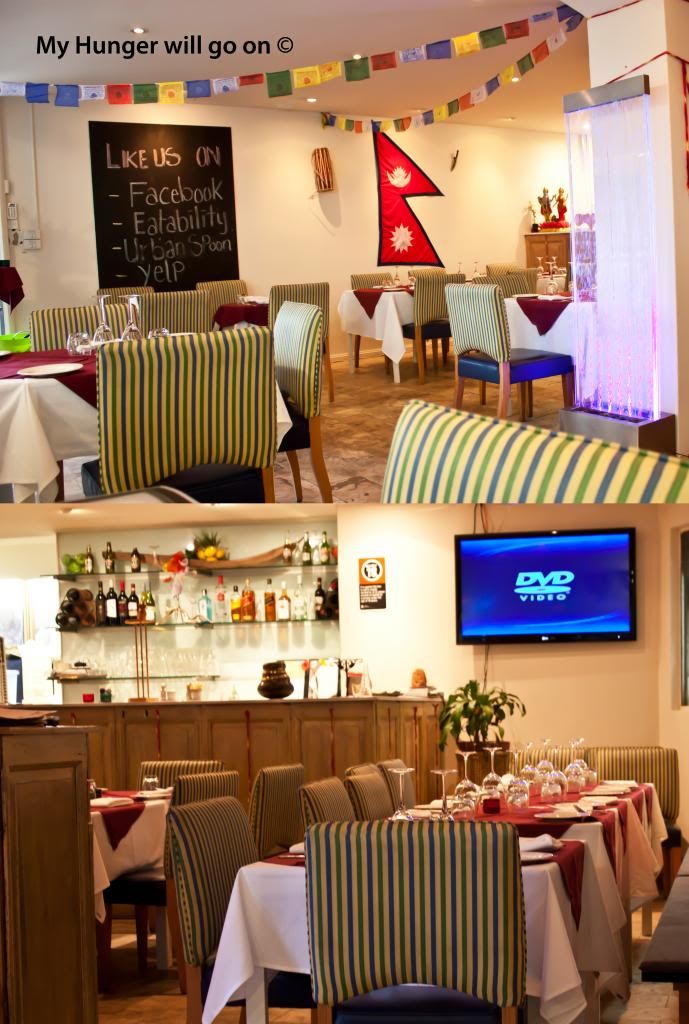 The indoor area was warmer, more colourful, and full of decorations that reminds you of some kind of festival. There was a TV not far from our table, displaying images of Nepal sceneries and its people. Then there were matching instrumental music on the background that reminded me of Nepalese dances with flowing long white scarves in the wind.
The waitress was very friendly and helpful, she informed us that they had a big order to prepare at the time so our dishes may experience delays. This is probably one of the very few restaurants where we get such notice prior to our meal, and we really did appreciate it.
Our deal was at $35 for a three-course Nepalese feast with a glass of wine each for two people ($79 value), so we get to pick any Entrees, Mains, and Desserts (excluding seafood and lamb cutlet).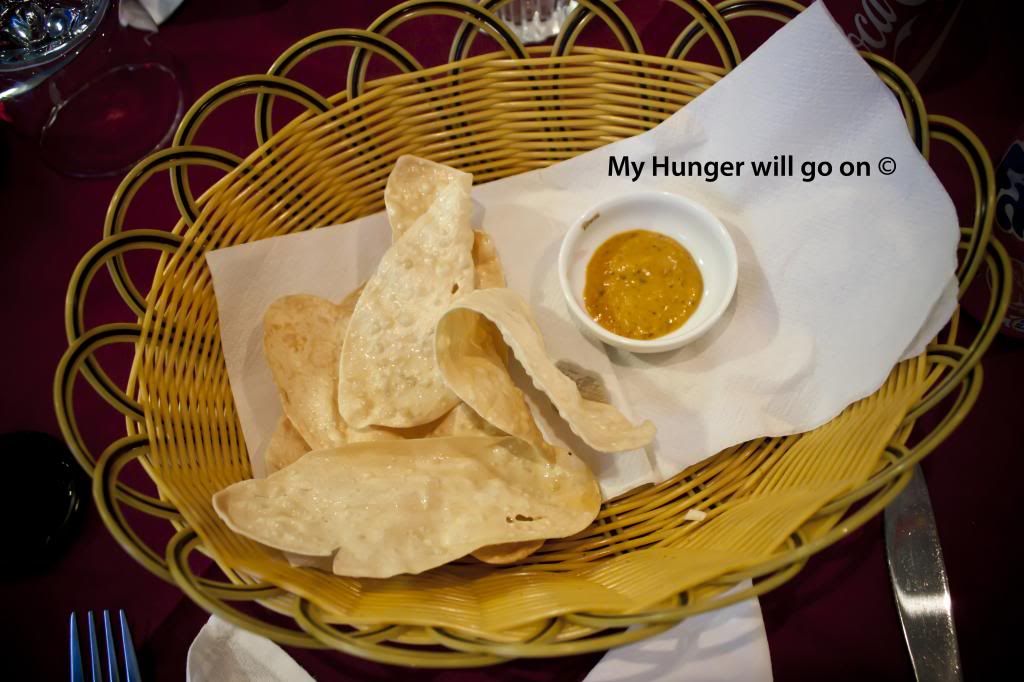 We received a complementary basket of crackers and sauce to start off the meal, and I have to say I love those. They were just so crunchy and you can just eat them continuously, it's definitely something we enjoyed.
Choyyala Chicken/Beef (Nepalese style BBQ Chicken or Beef, marinated with Himalayan spices served with salad)
We thought this dish had a combination of Chinese and Indian flavours/spices. You get that marinated meat with chilli punches, but at the same time with the revolving aroma of parsley or something similar. We picked Beef and they were quite chewy, although we weren't really sure of the temperature...we felt it could've been a bit hotter to reinforce the flavours. If you can't stand the spices, a tiny squeeze of lemon juice will solve everything :)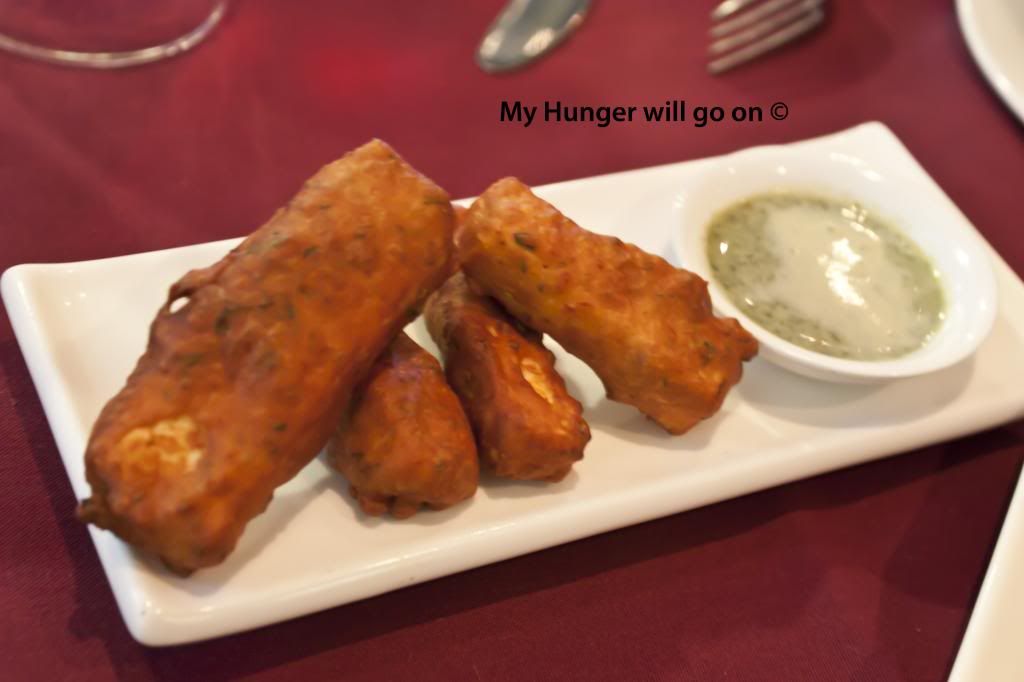 Paneer Pakoda (Deep fried cottage cheese fritter served with mint chutney)
This was an amusing tiny dish. Firstly, the cheese was very spongy and smooth. But when you had that layer of deep fried skin, the texture you get was almost like fried chunks of chicken. Though the skin wasn't crispy, they were rather quite soft. We noticed the mint chutney, just like the ones we get with Samosa from Indian cuisine. However, we would've probably preferred a sauce with stronger flavour instead as this dish had a light taste.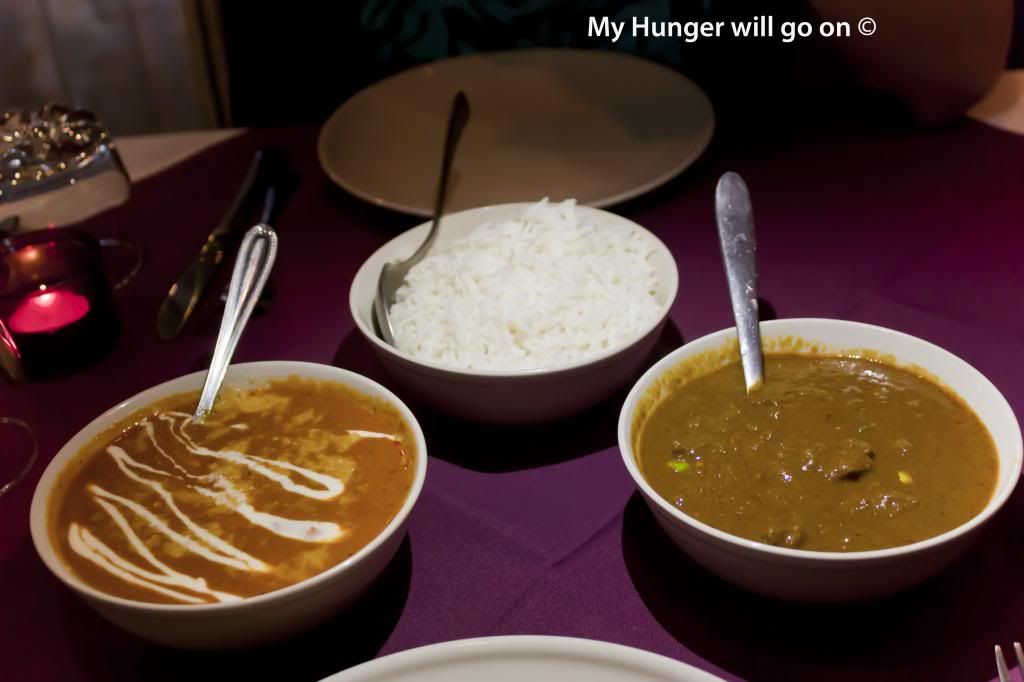 Beef Curry (Tender beef cooked with tomato gravy) and Chicken cream (Nepalese style butter chicken)
The waiter came with 3 big bowls, 1 with the brown colour Beef Curry, 1 with orange Butter chicken and creamy topping, and the other with long rice. The Beef curry initially had a little bitterness taste, but went quite well with the rice. The Butter chicken was not as rich, which was probably better as we can't stand really rich flavours. In the end we happily finished the rice but still had plenty curry left from each bowl.
Himalayan Gurkhas Delight (Mango and pistachio flavoured ice cream)
This dessert had a really strong mango taste along with the gentle pistachio pieces, the streams of sauces combined together and formed a very interesting pattern as well as its fun flavour. Although we did realise the ice cream seemed to have melted a bit...
We were pretty happy with this new experience there, especially with the service we received. Thanks again to Groupon for providing the wonderful opportunity! :) As we are approaching Christmas, personally I think these vouchers may be a brilliant idea for Christmas gifts! Head to
http://www.groupon.com.au/coupons/sydney/restaurant
for a list of Sydney Restaurant deals, or browse around for other exciting deals on the right hand side of the page.
Deal provided by:
http://www.groupon.com.au
Address:
9/81-91 Military Road
Neutral Bay NSW
Phone number:
02 9908 8212
Email:
himalayangurkhas@gmail.com
Opening time:
Dinner 7 days from 5pm
View Larger Map