The Bloodwood Restaurant and Bar was located at the quieter side of Newtown, mysterious and secluded. The interior reminded me of the movie called "Inception" where no ordinary rules applied for its designs, thus you will see bottles forming part of the wall, random recycled materials, illusional patterns that merged with stairs, and light bulbs hanging down the ceiling like a starry sky.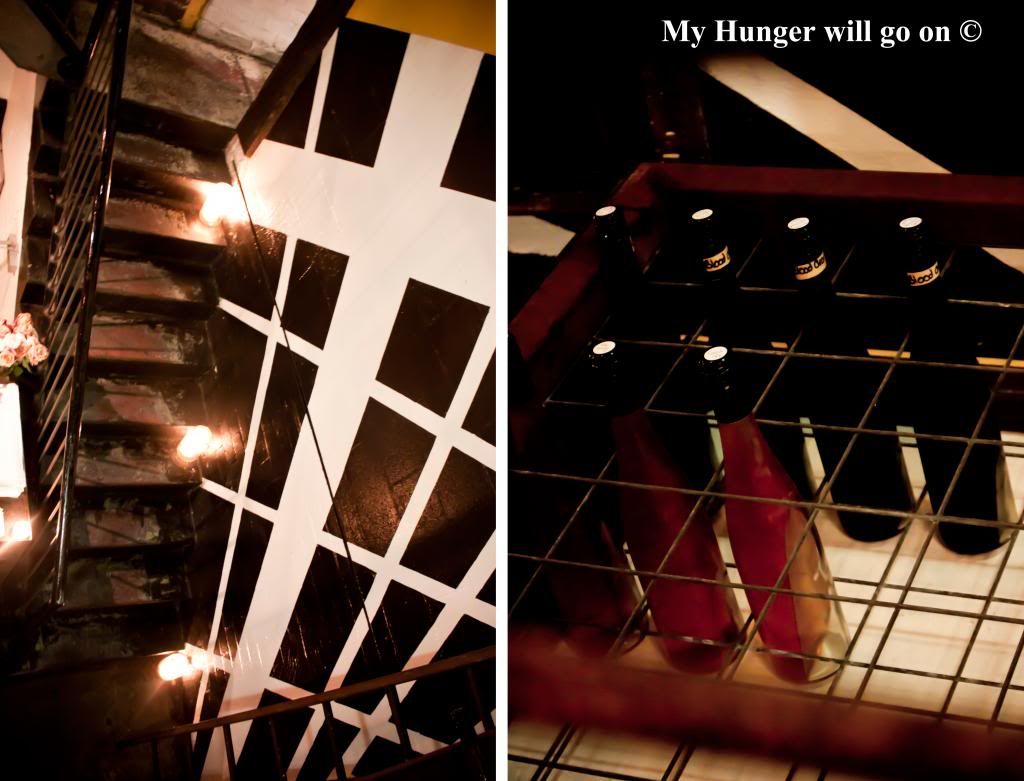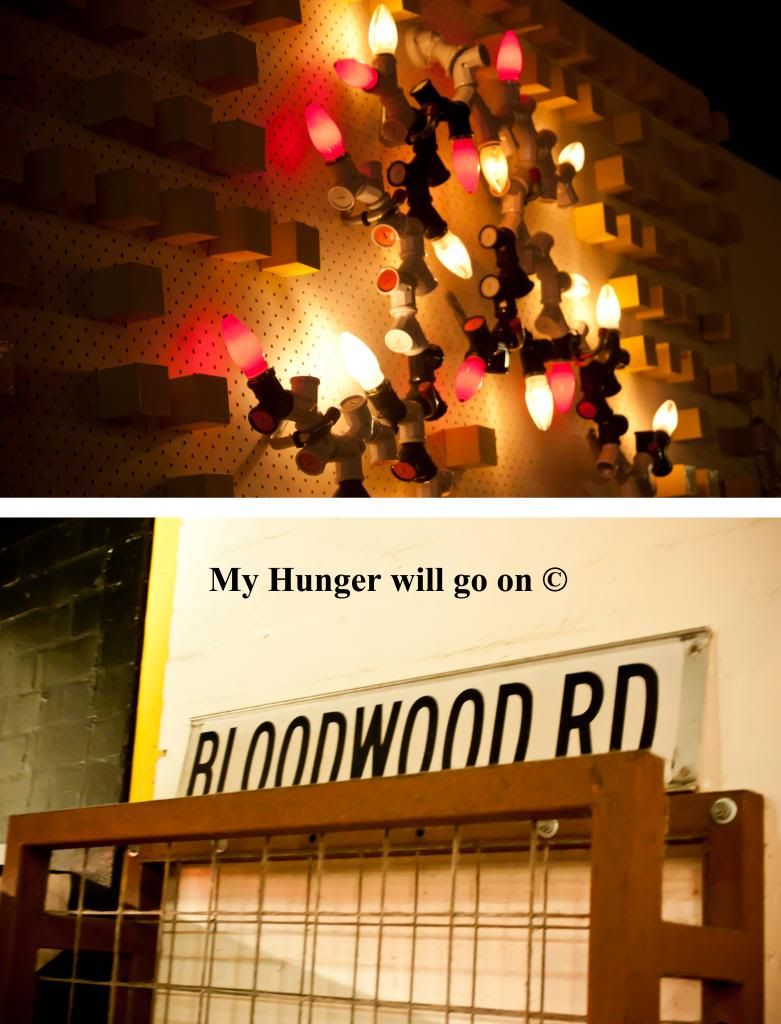 We got allocated to a table upstairs just near the staircase, and we were delighted by the warm and friendly waiters. When the menus were given to us, we had absolutely no problem in selecting the first entree dish, as we came to try out this dish since the beginning.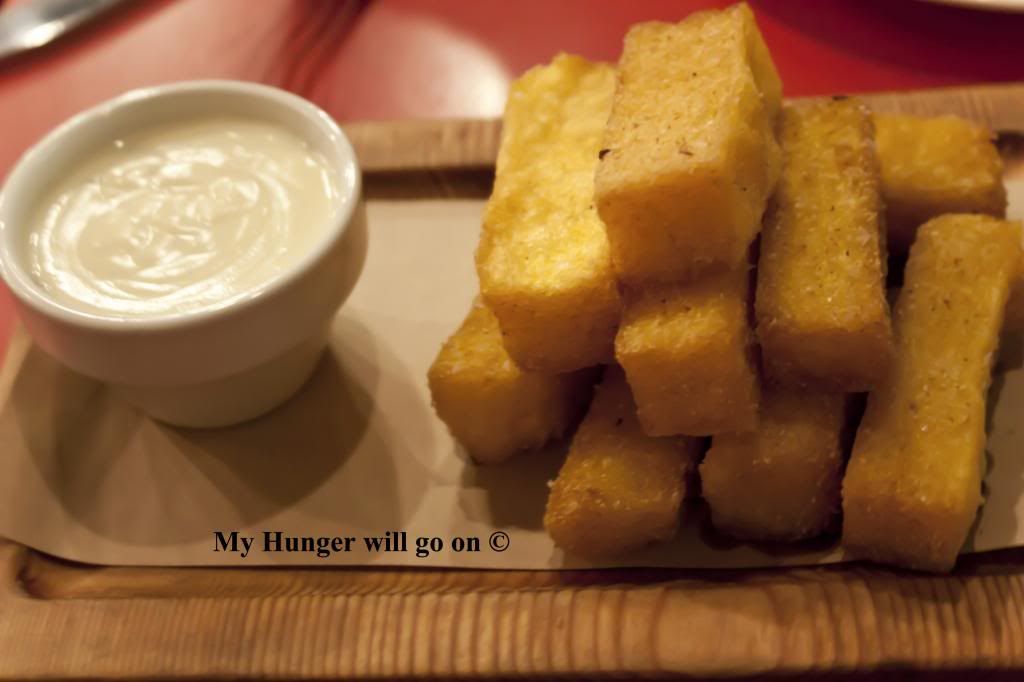 Polenta chips with Gorgonzola sauce $9.00
I've heard stories about these chips, mostly just about how fat and chunky they were. So we have decided to see it ourselves, and exactly how fascinating it was. The size of each chips were like wedges, except they were 10 times more delicious. The golden crust coated the soft inner core, and they were ready to be dipped deeply into the white Gorgonzola sauce. Bun said he found this dish quite bland and tasteless, but I actually liked it! (I have this weird habit where I like to eat the very original flavour of chips) Not sure whether it was because of the crust, or due to the creamy sauce, but I found every bite was very fulfilling.
PS: Polenta is a paste or dough made from cornmeal as used in Italian cooking. Gorgonzola is a type of rich and strong-flavoured Italian cheese with bluish-green veins.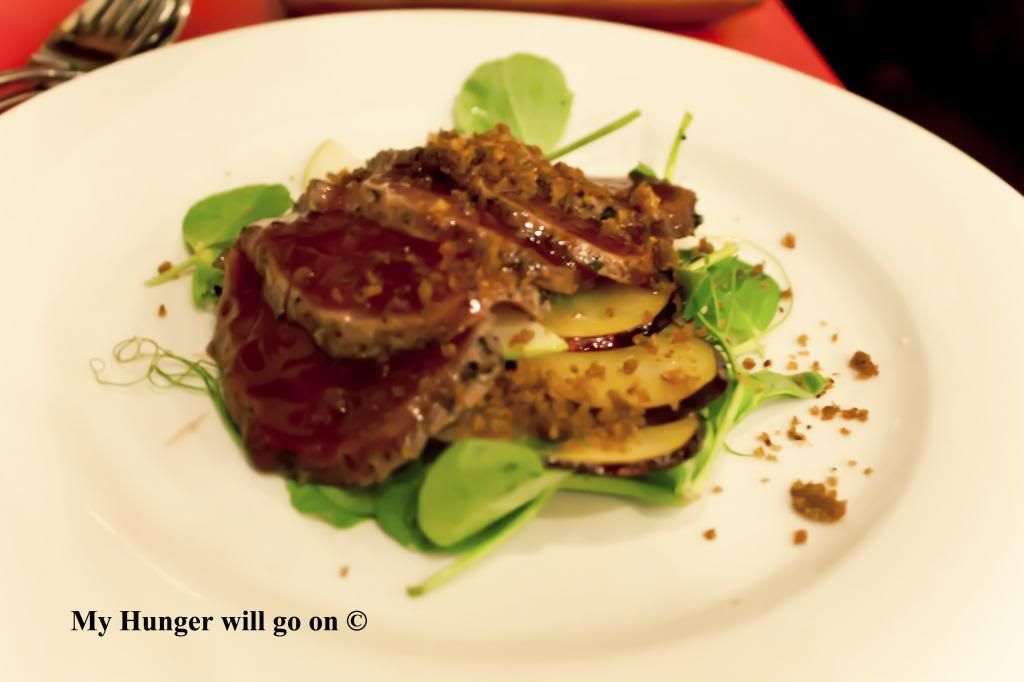 Seared tuna, plum glaze, apple and snow pea tendrils $18.00
This was quite an interesting dish, where the sweet and sourness of the fruits helped to highlight the freshness of the tuna. I liked how thin each slice was, and how easy it was to swallow them (very very smooth!). Although we had to say we wished the portion was bigger than that.
Glazed hombrea chicken with chickpeas, kale, smoked sausage and pickled onion $32.00
Funny how with this dish, I actually enjoyed the vegetable side more than the meat. The vegetables were all soaked with full flavours and they complimented the meat really well. I liked the smoked sausage but still found it a bit salty to my taste. Along with the pile of crunchy chickpeas, there lied the row of juicy chicken, and I do find their skins were a lot more tempting than the actual meat.
Being the Best Bar with Food and Best Casual Restaurant previously, we found Bloodwood had some really smart and sophisticated dishes to offer for its customers. However, we thought the portion could be seen as quite small for some people. The restaurant itself had dim lighting, funky music and as well as a chatty crowd. We wouldn't mind to return to this place again one day, just to try its range of cocktails and desserts.
Address:
416 King Street, Newtown NSW
Phone number:
02 9557 7699
Opening time:
Mon 5pm till late
Tue CLOSED
Wed & Thu 5pm till late
Fri & Sat midday till late
Sun midday till 10pm
View Larger Map