Landed in the middle of the semi-industrial Alexandria, you saw a huge Warehouse and found out it was actually one of the ultimate destinations for Cafe and bakery lovers. There was The Grounds of Alexandria, with an everlasting long queue and a large garden with grown produce and herbs.
We noticed the bicycle parking spot, but also the parking spot for dogs? I would actually really love to see a cute bull dog sitting there though...
This place was vibrant, full of enthusiastic customers sipping away the coffees roasted by The Ground of Alexandria. It could be a quite noisy place for some people, and we pretty much had to talk really loud in there so we could actually hear eachother.
We were sitting in front of the roasting machines, along with constant garden decorations falling into our eye sights.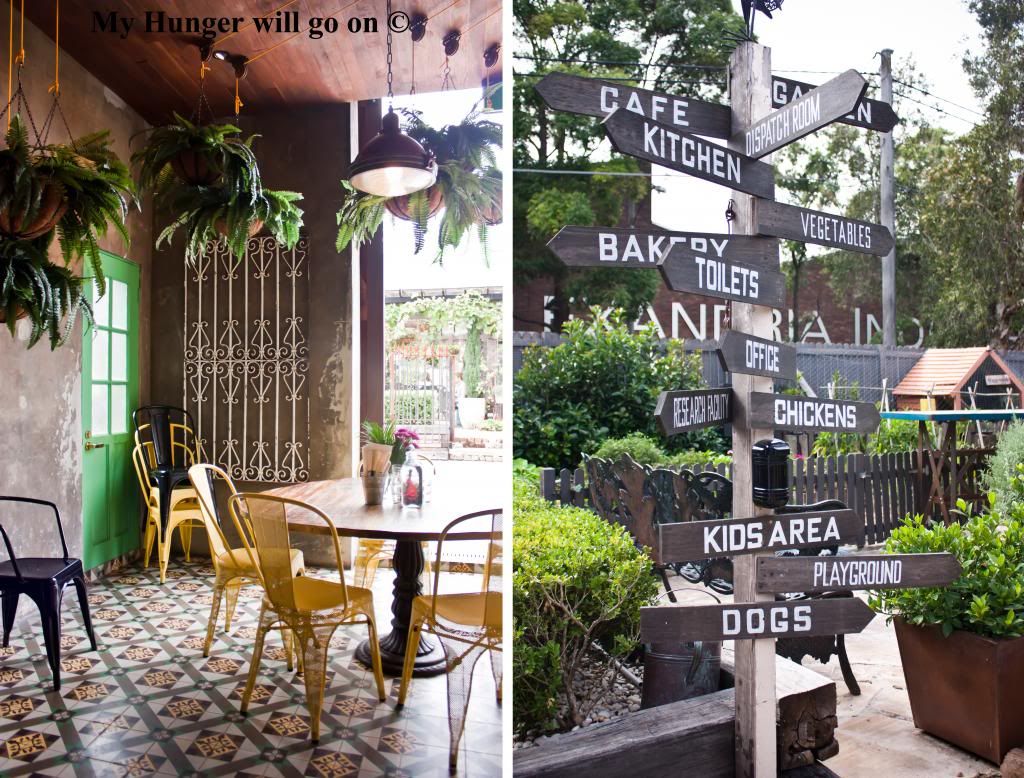 The Grounds of Alexandria had some really colourful furniture, contrasting with the rusty walls and poles at the background. They even had their own sign post right beside the garden, so it made us felt like we were in some foreign land.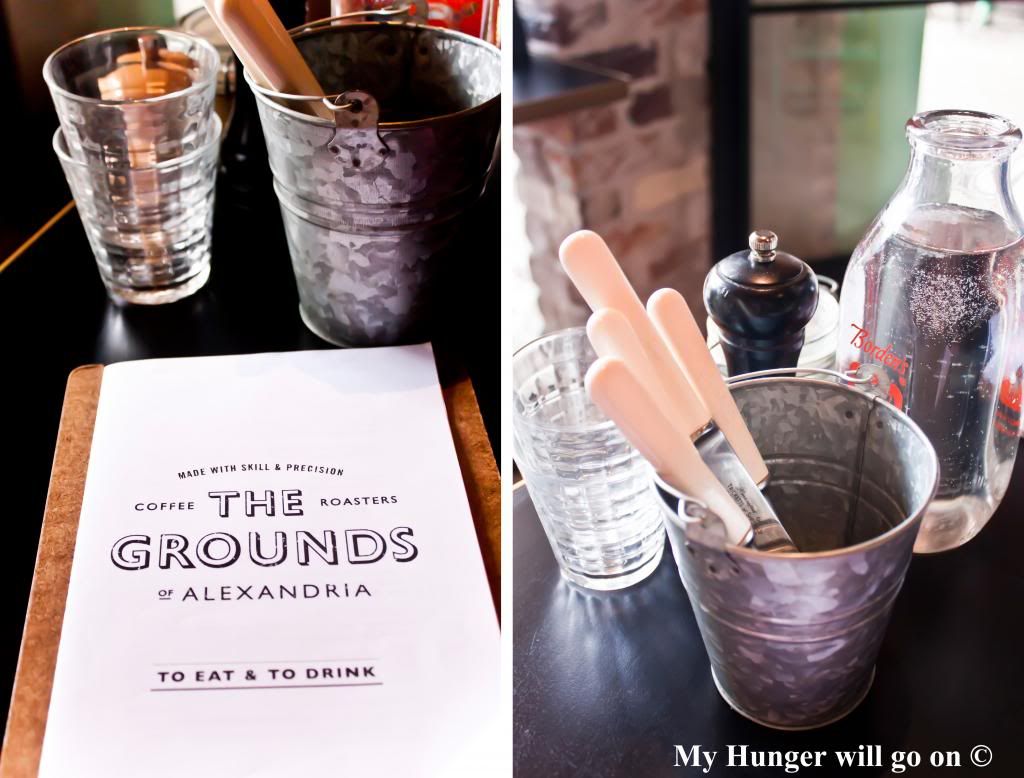 With the menu on a clipboard, cutlery in a tin and water in a milk bottle, we were ready to begin a very exciting Breakfast.
Watermelon, Pineapple and mint juice $7.00
This was a very interesting drink, as we haven't seen this combination before. The juice turned out to be sourer than we thought, as the Pineapple flavour has beaten the sweetness of the Watermelon. But to our surprise, a thin stream of minty taste rushed into our throats like a snowflake in a cold winter, and then stayed for 5 seconds until it was melted.
Regular Mocha $3.50
This Mocha was very sweet, with a thin layer of foam and less aroma than I expected. I found it less amusing than the Watermelon juice, but I loved the combination of this drink on a green plate, it was just like a beautiful plant growing happily in the garden.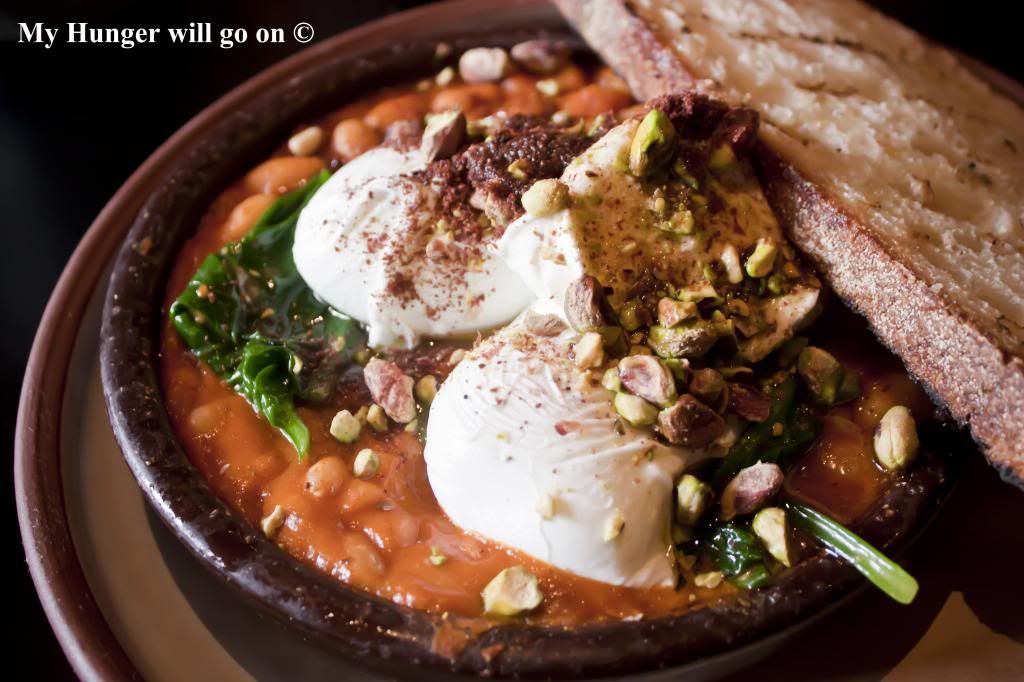 Turkish Style Eggs (Soft poached eggs in a rich tomato sauce with cannellini beans, spinach, pistachios, labneh yoghurt and toast) $16.00
I picked this purely because of the sound of "beans in tomato sauce", as this was one of my favourite combinations. Also I seriously couldn't resist "poached egg" these days, I felt so much satisfaction as I watched the yolk running out after a gentle poke, and it was almost similar to the feelings of how a kid won a bunch of lollies. I loved the combination of textures with the slippery spinach, the crunchy pistachios and the soft labneh yoghurt, together they lie on the toast and formed an excellent piece of art. Every bit of it fulfilled my desire for a perfect breakfast on a lazy morning, and it had the power to give you plenty of smiles on your face.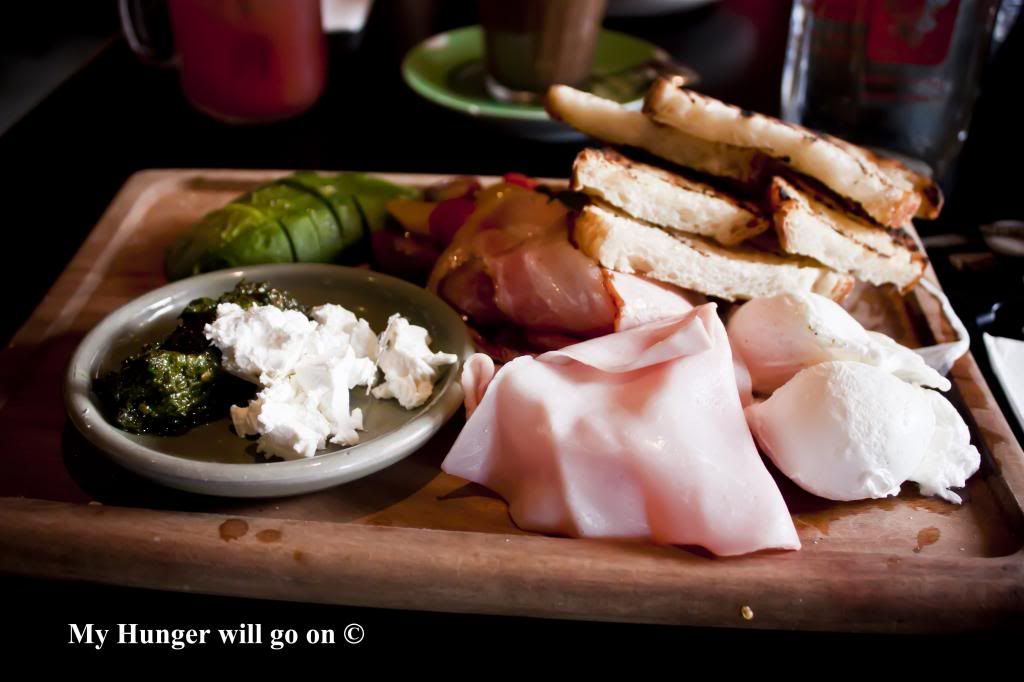 The Grounds breakfast board (double smoked ham, avocado, fresh tomato, Persian feta, two poached eggs, house made pesto and toasted sourdough) $19.00 (with added Bacon $4.50)
Bun decided to order something BIG, and indeed the breakfast board was big enough to fulfil his appetite. The combination of meat, pesto and feta had a pleasant taste on the sourdough, and you could always add Bacon if you felt like more meat. It was a great dish that included a bit of everything, and the portion was very reasonable.
We went to check out the garden after eating, and we found this little piggy lying there with a lazy face. Awwww it was so cute!
I loved these little random decorations around the garden, as they made the garden seemed adorable and lively.
BBQ and Donuts?
The Grounds of Alexandria have grown seasonal produce for their menu, so you could spot a range of different plants inside the garden.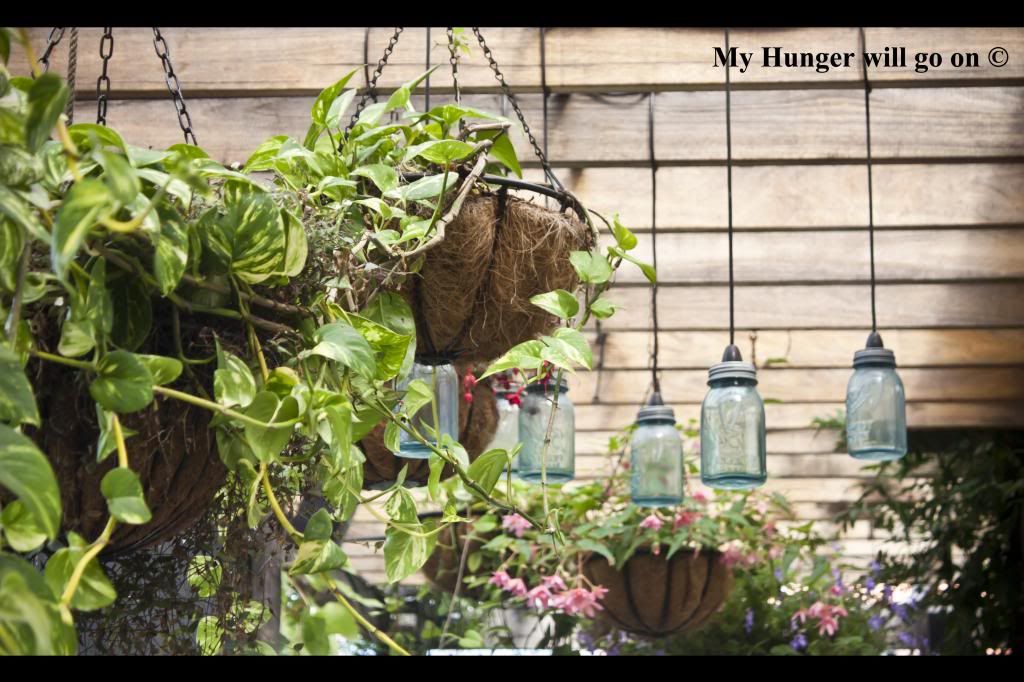 I'd like to end this post with this picture above, as it reminded me of some fairytale. I was so mesmerized by the bottles hanging down from the ceiling, wondering if a strong breeze of wind would make them bump into each other and form some lovely music notes.
We'd say...we loved the food there, the bustling atmosphere and the dreamy garden that felt like a journey of Alice in Wonderland.
Address:
7A/2 Huntley Street
Alexandria NSW
Phone number:
02 9699 2225
Opening time:
Mon to Fri 7am - 4pm
Sat to Sun 7.30am - 4pm
Breakfast:
Mon to Fri 7am - 11.30am
Sat to Sun 7.30am - 11.30am
Lunch:
Mon to Fri Noon - 3pm
Sat to Sun Noon - 3.30pm
View Larger Map