Good morning Mike! We are coming to the Kitchen! Yes, that's Mike McEnearney, the former head chef of Rockpool. This place was full of fresh and colourful produce, and not to mention it literally WAS like a huge kitchen! It had no menus, so you would see a long line heading towards the food counter and a lively crowd laughing in the background.
This place was huge with ceilings staying high above the crowd, along with the cracks of woods and beams of sunlight coming from every direction.
They had several pots stuck in between the wires in front of the windows, and they have created funny shadows when the backlight came into the window.
We spotted food, lots and lots of them sitting in different plates behind the glasses, as if they were screaming "Eat me pleeeease!" We also spotted a cute staff member trying to cut the bread. Little things like those somehow amused us on this sunny morning.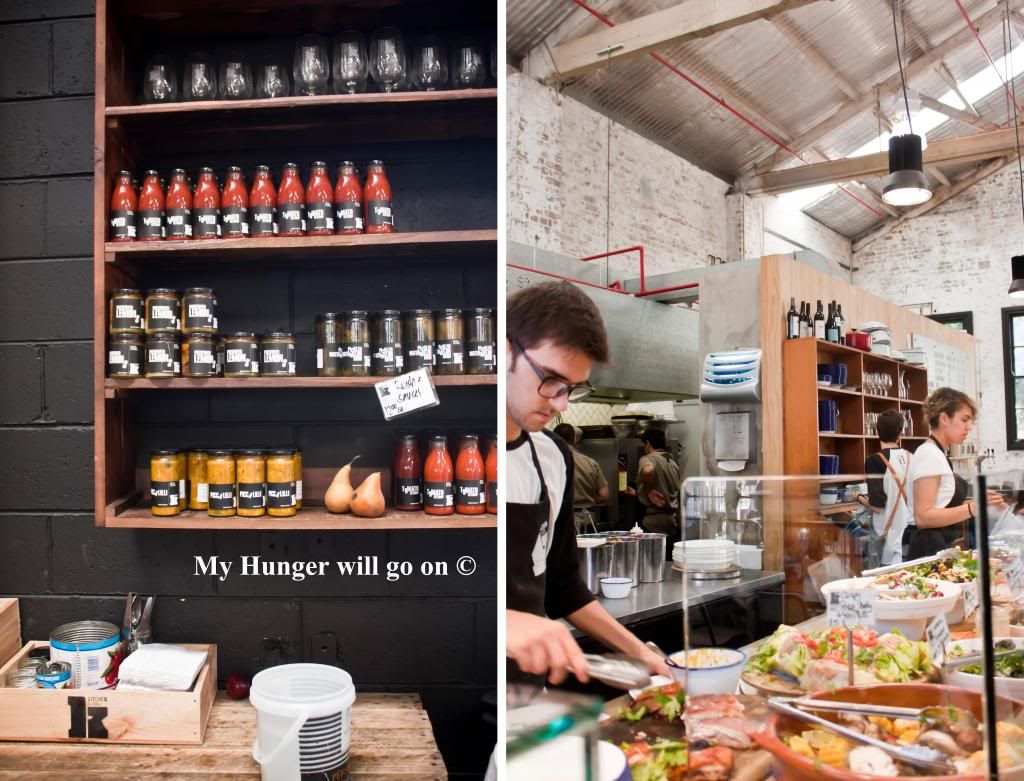 After a little while, we have finally finished selecting our foods on the plates. As soon as we grabbed our dishes, we rushed outside as we felt the indoor area could turn into a giant heater in this sort of day.
We found this tin containing the cutlery, and it was somewhat fascinating as it reminded me of something found in a random 70's show.
Crispy pork belly with piccalilli $15.00 + Iceberg lettuce, tamarind and jalapenos $4.50
Onto the food! Here was my plate...I regret not taking a close up photo of the pork belly though, I guess I was too hungry this time! The pork belly was A-M-A-Z-I-N-G! Try imagining placing a chunky cracker into your mouth and then chomp down as hard as you could. That was exactly what the top skin sounded like! Then the tender and juicy meat came in, along with the burning sensation of piccalilli...I was so sad to finish this dish, it was like one of the most delicious things you could have.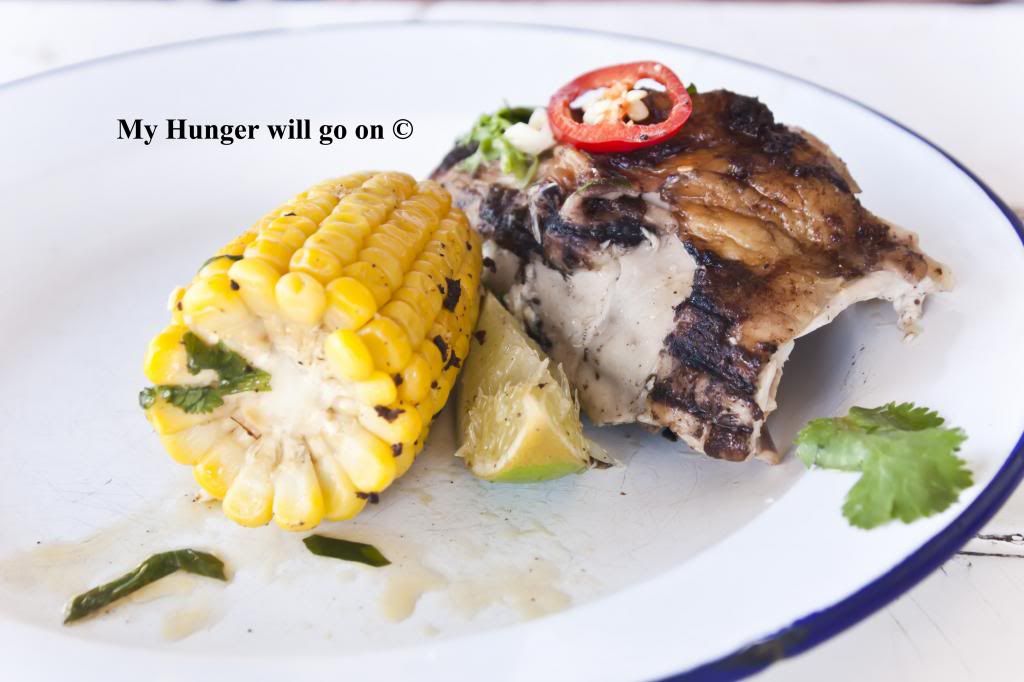 Jerk "jamaican" chicken, and corn $14.00
This dish definitely didn't stand out as much when compared with the pork belly, so I guess the pork belly took the entire spotlight. I found the chicken was too ordinary, although it was cooked really well without much excess oil. It was just something very predictable, no highlights and no disappointments.
There is something exciting about places that have turned factories and warehouses to restaurants/cafes, where people can eat at different settings. Another thing is about the extra combination, whether it's a little shop or an outdoor garden, they seem to have added some entertainment for the customers. Last thing to mention is...we realised a development proposal at their exit, saying that they might be able to open for dinner in the future!! (YAY!)
Address:
85 Dunning Ave, Rosebery NSW
Phone number:
02 9045 0910
Opening time:
Mon - Fri 7am - 4pm
Sat & Sun 8am - 4pm
Lunch finishes at 3pm everyday, and coffee & cake finishes at 4pm everyday.
View Larger Map