WAITAN: A NEW CONCEPT IN LUXE ASIAN DINNING WHERE EAST MEETS WEST AND OLD MEETS NEW LIKE NEVER BEFORE
Located at the heart of Sydney Chinatown, Waitan has emerged in Oct 2013 with a promise to deliver the ultimate Asian foodie experience. Waitan is the first Australian venture for Asian hospitality groups, Xiang Er Qing and Tung Lok, with Patrick Tian as the local managing director and Aaron Ching as the Chief operating officer. Together with over $10 million spending and a stunning 2,500sqm venue, Waitan has certainly set its impression to bring a new and exciting vibe to the old Chinatown.
"My Hunger will go on" was really grateful to be invited to this party at Waitan, and we knew what we were going to see on the night would be amazing and memorable. We arrived just before the sun went down, and there we saw the colourful Lamborghinis sitting glamorously at the entrance and attracting many attentions from the public. At that instant, we couldn't wait to walk up the red carpet and check out this new giant inside Chinatown.
With an overwhelming crowd, rows of red lanterns and the traditional antiques, we felt that we have been teleported immediately into the old Shanghai back in the 1930s where it was known as "The Paris of the East, the New York of the West".
If Shanghai in the 1930s represented an era of class, style, elegance, romance and the classics, this world-class interior designed by Thuan Teh (previous works including
Chef's Gallery
and boutique hotels of
The Kirketon
and
The Diamante
) has certainly brought it all back. Waitan consisted of main dining hall with an exhibition-style kitchen, intimate laneway, 14 private dining rooms, Waitan's O Lounge, and even member-only spaces like the Library.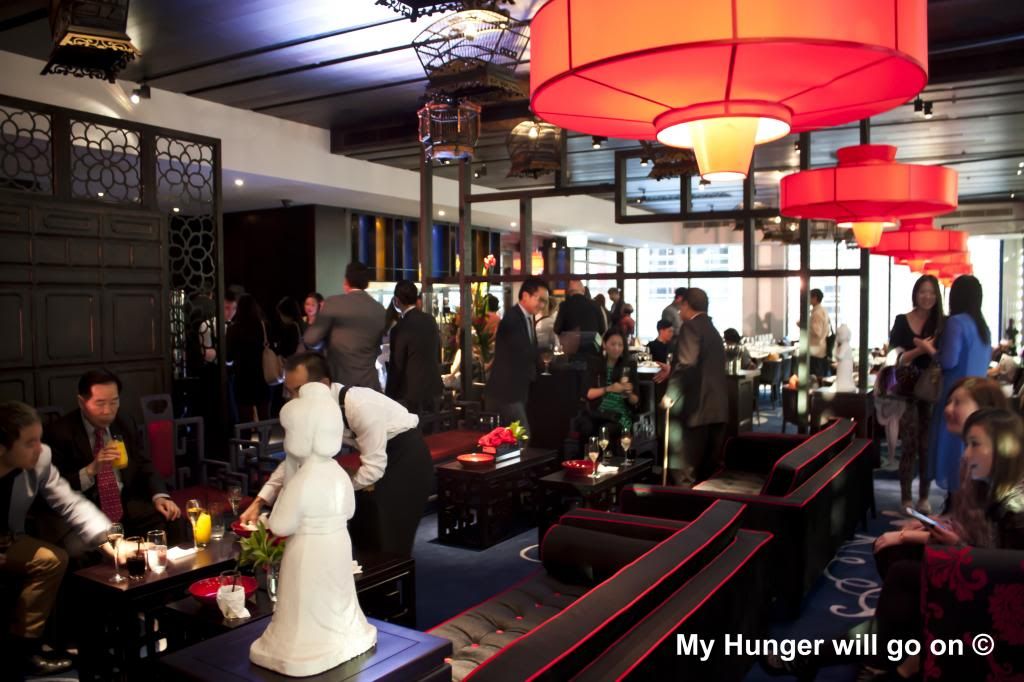 On every corner of Waitan, you can find statues that resembled people from ancient China. With a combination of red and blue lighting shinning down on them, it almost felt like they were to come alive in any minute and enjoy a delightful meal with you.
Going into the bar inside Waitan and staring at this faux opium bed, it reminded me of all the movies and dramas I use to watch about old Shanghai when I was a kid. My impression of nights in Shanghai was full of neon lights, melody notes floating inside the Paramount nightclub, gangsters with money to burn on cigars and beautiful women, and wealthy ladies walking on the street with Qi Pao and short curly hair. The voice of the live music band has dragged me back to reality from the chain of thoughts, and I quickly took a snap of this dark, mysterious, yet addictive scene. I wondered if the illustration on the wall was to depict a deep sea, where people drown themselves into their most fascinating dreams.
With John Rankin (worked for
Quay
,
Astral
and
Sean's kitchen
) taking on the lead of the kitchen, Waitan will offer something different to the crowd, something that redefines your expectations, and bring back the "French
Gourmand
tasting menu with a unique eastern twist".
With these in mind, we took a journey around the kitchen area to find little surprises that Waitan seeks to offer, and we spotted fresh oysters, fried buns, spring rolls, prawn sticks, Wagyu beef buns and the famous Peking duck pancakes.
The master Peking duck chef Mr Yuejin Ma
has been flown to Sydney for this special night at Waitan, and prepared these ducks pancakes from the signature oven to please the crowd. We constantly heard "Mmm this is really good!", "I love it!", "Absolutely amazing!" phrases from the crowd, I guess a bunch of exclamation marks just popped out of everyone's head.
We loved the traditional dark wooden tables and chairs, the silky cushions full of flower patterns, and the flawless dinnerware.
If these weren't exciting enough, an amount of $10,000 will buy you a VIP ticket to access the second floor members-only areas, where Sydney's largest circular table measuring 5.2m is located, and the $50k bottle of cognac will be available to indulge.
This venue at Sydney Chinatown will be the first of an international chain of Waitan restaurants, the second of which will open in New York next year. There are two more planned for Australia including another one in Sydney and one in Melbourne.
用了千万*资金打造的Waitan,2013年十月在悉尼中国城开幕了。Waitan拥有占地两千五百平方米的豪华场地,其中包括了十四间私人包间,展览厨房,酒吧以及VIP会员专区等等。主厨是曾在Quay, Astral, Sean's kitchen工作过的John Rankin, 这让人很期待Waitan会带给我们什么惊喜。当我们走进Waitan时,感觉像是穿越时空来到了三十年代的旧上海,每一个角落都散发着古典美与神秘的气息。 在酒吧里还摆设了模仿旧时代的鸦片床,不由让人想起了那个灯红酒绿,纸醉金迷的老上海。当晚我们品尝到了生蚝,炸虾棒,Wagyu牛肉包,北京烤鸭等等的精致派对美食,值得一提的是Waitan的特殊烤鸭炉和准备了三天的烤鸭,很让人惊叹不已。如果这些惊喜还不够,Waitan还有会员费一万块*的VIP专用区,包括图书馆和悉尼最大的圆饭桌,人们还可以品尝到Waitan价值五万块*的白兰地。然而,这只是Waitan的一个开始,第二家Waitan餐厅准备明年在纽约开幕。(*澳币)
Again we are really thankful to be invited to this great event, and we can't wait to visit here for a delicious meal soon!
Address:
405 Sussex Street Sydney
Phone number:
02 8218 1000
Opening time:
Mon - Sun 6pm - 12am
View Larger Map