Ippudo is the famous Ramen chain restaurant in Japan. It started in Fukuoka and then spread all over Japan and worldwide. Now finally we are here, heading to Ippudo that has opened in December last year inside the Sydney Westfield.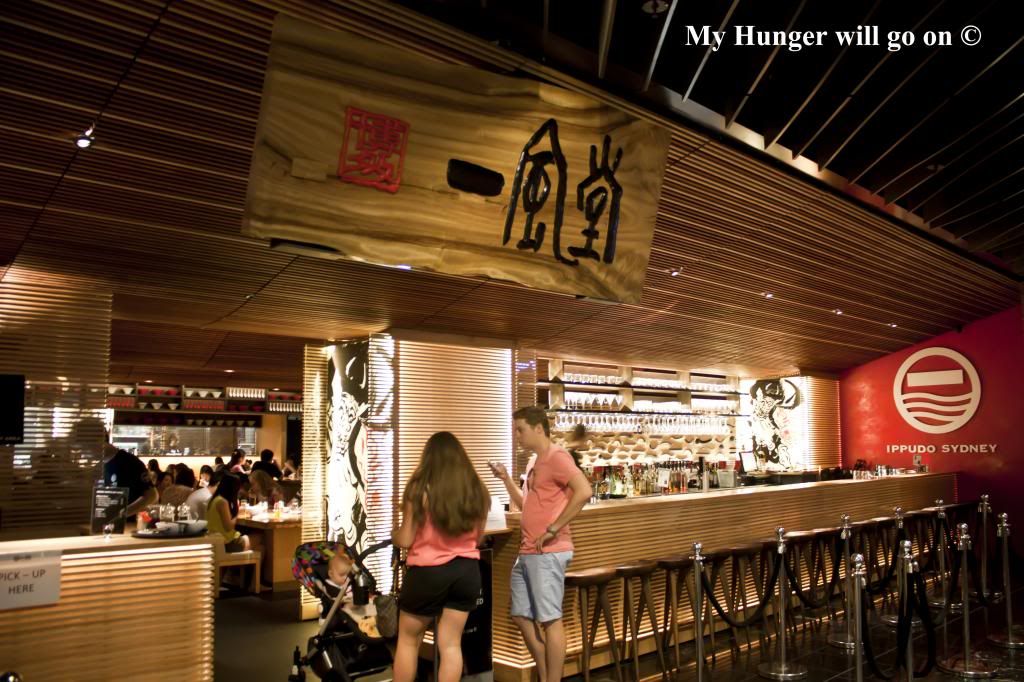 As soon as you walk inside, you can hear everyone great you with a loud and clear "Irasshaimase", meaning "welcome" in a respectful way.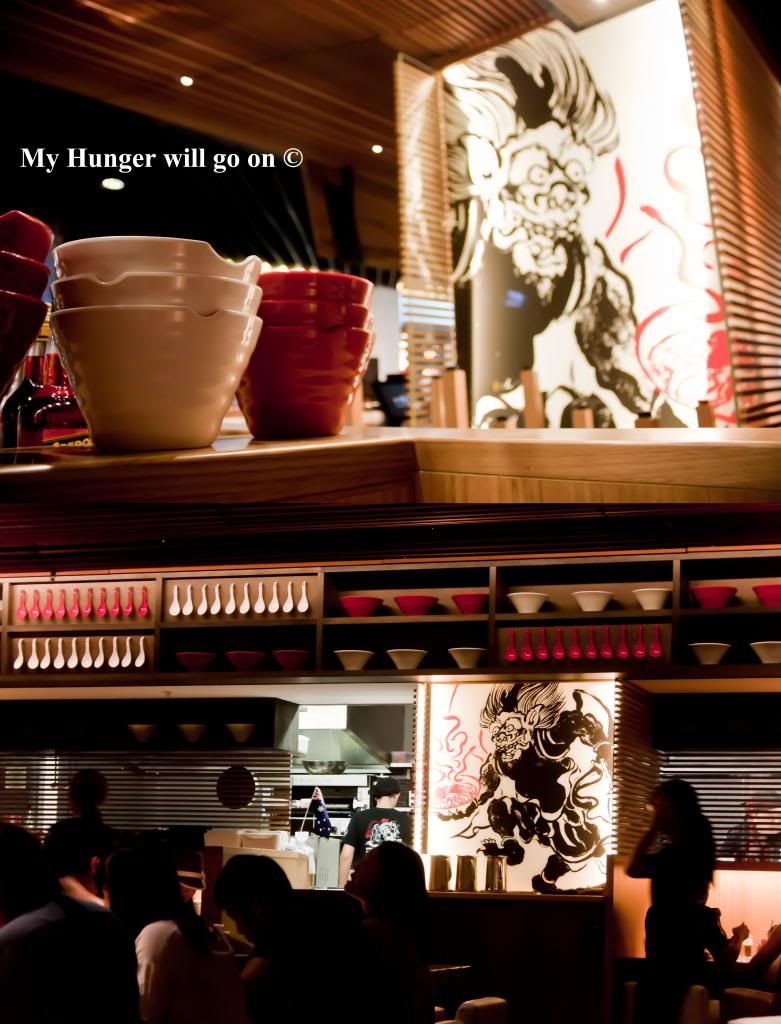 The lighting in there was dim, yet with bright focus on the traditional artworks on the wall. They looked like "Tengo" (

てんぐ), a legendary monster with tall nose, red face, and pair of wings. I think they matched perfectly with the dark wooden interior, along with the red and white coloured kitchenware.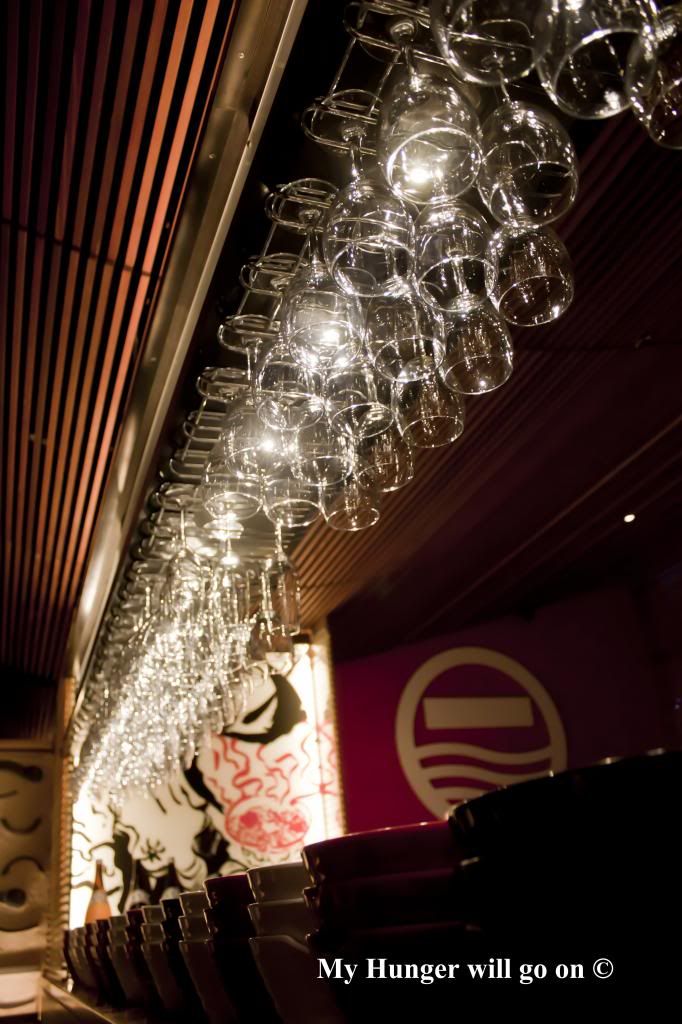 I also saw this rack with wine glasses hanging down, and they sparkled in the darkness, created a fancy glow on the background.
We started the meal with our drinks, so here we have one Lemon Ice Tea and one Orange juice.
Ippudo pork bun - Steamed bun with braised pork and Ippudo original sauce $4.00each
I have heard so many good comments about this bun, so we ordered ourselves two of them to try out. At first it reminded me of this one particular type of Moss Burger, with the lettuce, mayonnaise and pork stuck in between the soft bun. Everything seemed quite normal, but the part that stunned us was the pork. Normally we find pork pieces can be abit hard to chew, so we always preferred beef or lamb. But in this case, the pork literally melted into our mouths, leaving almost no traces of leftovers. We couldn't believe the texture and the sensation, and we would strongly recommend this to everyone. It's just amazing!
After your orders, the waiter would ask you how you like the Ramen to be cooked, ie. soft, medium, hard...I've picked hard (because I felt that Ramen should be very chewy) and Bun picked medium.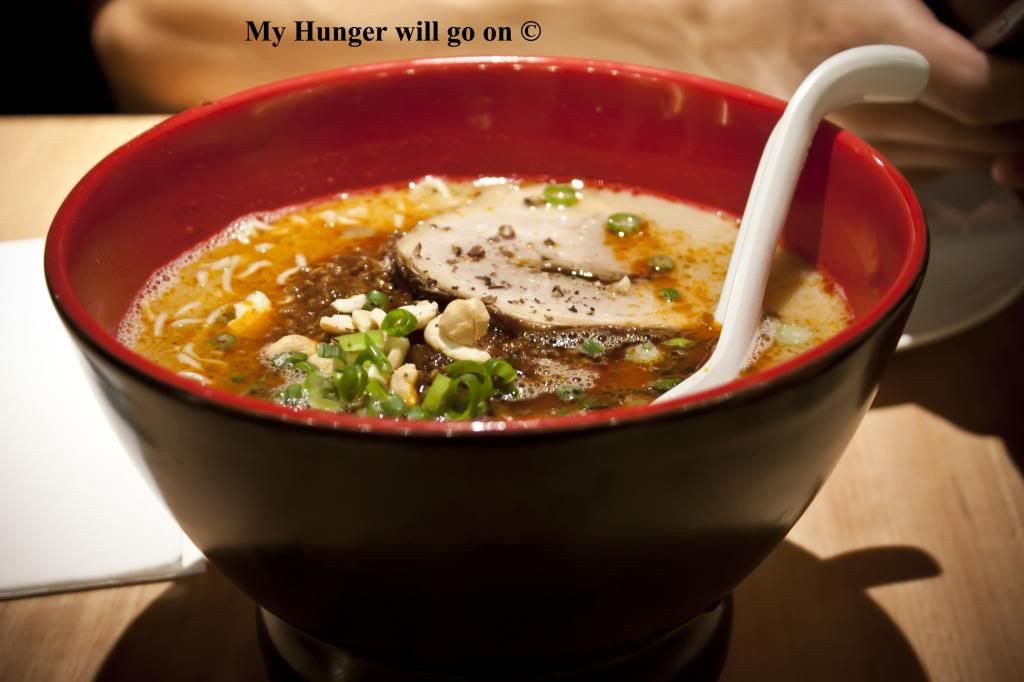 Karaka Men - Ippudo original tonkotsu broth with special spicy miso and ground pork $17.00
The soup looked quite orange when it arrived, so we thought it would be quite spicy. Surprisingly, it was rather too gentle to be called "spicy", the chilli taste hit you for no more than 5 seconds and then slowly fades away. This Ramen at medium level looked abit wiggly, and it was quite pleasant to chew and swallow. It was a good bowl of Ramen, but the only thing is the lack of pork pieces, I guess it wasn't enough to satisfy the craving.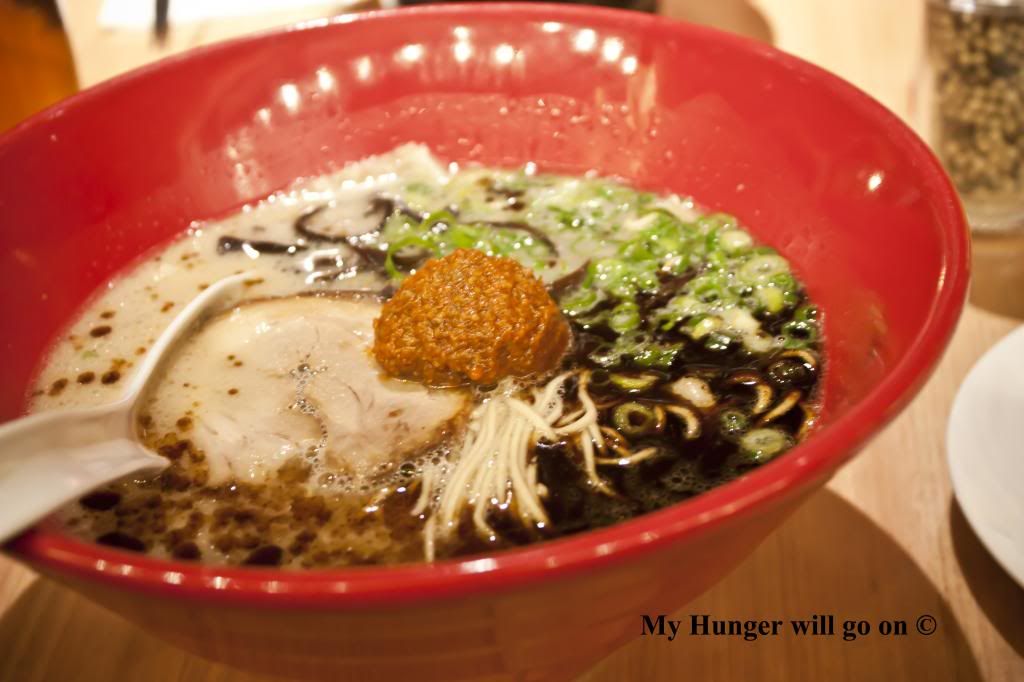 Akamaru Shinaji - Ippudo original tonkotsu broth enhanced with special blended miso paste and fragrant garlic oil. Served with think noodles, pork belly, black mushroom and shallots $16.00
Apparently this is a refined, modern-style Ramen. With the thin, long, and hard form of the noodles, I found it very satisfying to slurp. After mixing the variety of ingredients, I had a sip of the soup and immediately fell in love. It had a strong aroma, and the best bit was that it's not thick at all. Although a little salty, overall I was very happy with this bowl of Ramen.
Apart from all the nice food and excellent interior decorations, I noticed the waiters/waitress were very polite with strong attention to details. For e.g. As soon as Bun finished that last drop of Orange juice, one of the waiter came to check whether Bun needed more drink and gave us a cup of ice water. I found that gesture very thoughtful, and Bun could then cool down after that bowl of spicy Ramen. Even though Ippudo is relatively more expensive than all other places we have been, we still loved it and really want to go back someday just for the Pork buns!!
Address:
Westfield Sydney
Level 5 (shop 5021), 188 Pitt St, Sydney NSW
Phone number:
02 8078 7020
Opening time:
7 days 11am - 11pm
View Larger Map